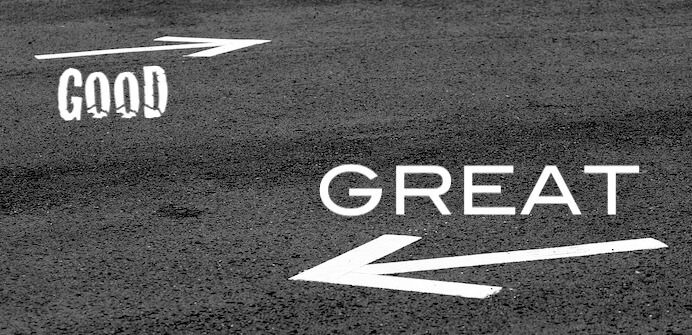 GOOD ISN'T GOOD ENOUGH. IT'S TIME TO GO FROM GOOD TO GREAT.
Boards must rise to the challenge and develop creative, innovative approaches to helping their members become engaged, even before their first meeting, and stay engaged throughout their board service. Boards can no longer afford to have members follow a traditional board development timeline: a term to learn, a term to do, a term to lead. Trustees need to make a contribution on Day 1, but to do that they need to understand what
is expected of them and be given lots of opportunities for engagement in board work.
An engaged board is a forward-thinking board that strives to have a collaborative partnership with the CEO/executive director, which means partnering for fundraising, as well as policy-making. Engaged boards "work" between board meetings, and attend meetings well prepared. They are willing to deliberate candidly, confidently treading on sensitive topics that may result in "messy" discussions because they trust one another and are comfortable with the culture of the nonprofit, confident that everyone values mutual respect.
The new engagement is distinguished by board deliberations that are future-oriented, proactive, and based on trust. To fulfill their obligations to provide effective oversight of the institutions they are charged with guiding and protecting, governing boards need to be willing to take calculated risks, including challenging assumptions, testing traditional ways of doing business, and introducing innovative ideas.
Are you hungry for a board that's more engaged? Allow us to share a few practical ideas upfront. Whether you're the frustrated Board Chair that feels like you're knocking and nobody's home, or the frustrated Executive Director who feels like every request is met with crickets.
✅ Remember that no board is monolithic, so find your stars and bring them together in an alliance. Take your list of board members, divide them ones, twos, and threes. Your ones are your rock stars. Find one or two of them. It doesn't take much. Bring them together, make them feel like a million bucks, and engage them in the process of working with you to tip the board in the direction you want to go.
✅ Make board meetings count. They are your best opportunity to create first-rate ambassadors. You want to do several things. You want to enrich them, something that gives them context about the sector or why the work matters. You want to engage them. Ask them legitimately and authentically for their advice, ideas, and suggestions.
✅ Keep them informed enough so that they can share accomplishments of the organization with the people they encounter. If you can enrich, inform, and engage you can ignite your board members to be engaged ambassadors for your work.
✅ Keep things alive between board meetings, and by this I do not mean nag them to sell tickets to the next event. You can nag them, but it has to be mixed up with some enrichment, a victory, a story they can tell, a mission moment some people call it. You've got to give them. You've got to feed them between board meetings if you want them at the next cocktail party to say, "Hey, you know, my job is great but boy am I loving board service. Let me tell you about something recently that happened at XYZ org." That's how it works.
---