Nicolas Victorin was born and grew up in the northern area of Haiti in a city called Pignon. He's the oldest of five sons and started school at the age of four. After his graduation from High School, he was unable to attend college. Says Nicolas; "I had to take a break and wait until the Lord would open doors. It is said in the Bible that God can open doors where there is no door, it really happened in my life."
Dreams Fulfilled And Promises Kept
Just as his dreams of attending university seemed hopeless, he learned that USAID was organizing a contest with the idea of selecting twenty-five young leaders from the nation of Haiti for technical and leadership training in the United States for two years, with the stipulation they would all return to Haiti and replicate what they were taught. Three hundred young Haitians applied to that contest; after three different processes, he was "fortunate and blessed" to be one of the twenty-five young leaders retained for that training. On August 9, 2006, Nicolas left Haiti for Tampa, Florida where he attended Hillsborough Community College. In May 2008, he graduated with an Associate degree in Electronic Engineering/Computer Repairing and Community Leadership. As promised, he returned to Haiti where he started to share his knowledge and skills with the community in order to give back from what he had freely received.
The Aftershocks Of A Disaster
In 2010, he was back in Pignon (his hometown) working in a hospital information technology department when a 7.0 earthquake hit near Haiti's capital of Port-au-Prince. An estimated 300,000 people died and 1.5 million were displaced. Located nearly 100 miles from the heart of the disaster, Pignon was mostly spared the destruction of the quake but not the economic aftershocks. Victorin came to Florida as a refugee, one of more than 13,000 Haitians who fled here seeking help, according to the Florida Department of Children and Families. He chose Tampa because of friends he had made at Hillsborough County College. He planned to stay just long enough to find ways of helping Haiti.
Perseverance And Leadership Prevails
Returning to Pignon, Nicolas began attending a law school and graduated with a law degree in January 2017. He has been actively participating in the development of his community, organizing community services, sharing his knowledge and skills with others who did not have the same chance that he had. During this time, he also implemented a community radio station to serve Pignon and the surrounding area, providing further education.

With $4,000 in funding secured through friends in Atlanta, he created the microloan program for women. The program provides $600 interest-free. If they pay back in full within six months, recipients can get another loan. Not a single customer has missed a payment. Nearly 150 women have received loans and with donations from other friends, including some in Tampa, the pot is now $20,000.
Various groups in his community recognized his gift of leadership and decided to ask him to run for Mayor. After consulting with friends and family, he finally made the decision to run for office against 8 other councils of 3 candidates each. Nicolas ultimately won by over 2,000 votes and was elected as the Mayor of Pignon, a city of forty-two thousand on October 25, 2015, officially taking office on May 27, 2016. At 31, he is the youngest mayor serving in the impoverished island nation. Notable are the words beneath the City emblem pictured above, as the English translation is; "United For The Common Good."
Nicolas credits his perseverance as an adult to his upbringing in Pignon, a city with unreliable electricity, no running water, and fewer than 20 cars. "We had to look out for each other," he said. "My father would come home from the farm and give neighbors his fruit as he walked."
Bringing Change For Good
"I am fortunate because I have friends in the states and received an education here," said Mayor Victorin. "I can use that to bring change." His monthly city budget is just $5,000. While infrastructure money and international aid are possible, it can come with a kickback attached. The Mayor says he turns down such crooked deals. "I am trying to change the culture of my country."
While the City of Pignon has many needs, the Mayor is now focused on three very important projects; Housing, Education, and; Sanitation.
Help The Mayor Build A House

Mayor Nicolas Victorin: "Elders and widows in Haiti are usually the ones who suffer the most. They live by themselves, they are sick, hungry and clothesless. During the rainy seasons, it is even worse because their little one or two-room mud house are covered with tree leaves (palms) as roofs. I have identified more than 10 of the worst homes that I would like to replace for those families. Each house will cost $3500. It will be a nice concrete house covered with metal sheets."
---
Help The Mayor Educate A Child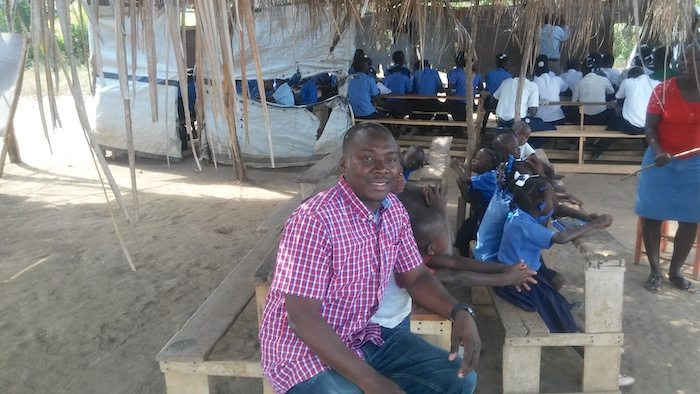 Mayor Nicolas Victorin: "Haiti is unfortunately divided into citizens in the city and the ones in the rural areas. Roads that lead to those places are not accessible by cars so people who live in places like that are usually left on their own and not cared for by others or by the Haitian government. My heart touched for those kids who don't have a way of being educated and for elders who are sick, hungry and have no-one to take care of them. I have been trying hard to reach out to those needy ones, we go where others would not want to go to reach them. I have a scholarship program ($100.00) that helps one child to go to school, which includes school's tuition, uniforms, and some school materials. I am trying to give them a chance of education just like the children in the city."
---
Help The Mayor Buy A Used Dump Truck

Mayor Nicolas Victorin: "As the mayor of Pignon, I have seen trash as one of the biggest challenges for my city, Pignon. Once I took office I bought a 3-wheel motorcycle with a dump to collect trash. As Pignon is a city of 42,000 people, that motorcycle seems to be insignificant to solve the trash problems. I would like to have a dump truck for Pignon which we will use to collect trash several days a week and to carry materials to fix broken roads to make the city and its neighborhood more accessible." We are seeking to purchase a used Dump Truck in the USA. We have estimated the cost to be $20,000., including shipping and customs. We have many mechanics here who can help us keep such a truck running properly.

UPDATE: A very generous Tampa Bay Company has agreed to donate a Used Dump Truck! Nicolas raised the money to ship the Truck to Pignon and it's now helping his city solve the trash problem. See the Mayor's Video below:
---